Pour pouvoir poster sur les forums, vous devez d'abord créer un compte. Veuillez utiliser votre vrai nom et non un pseudonyme
L'organisation communiquera principalement en anglais ou en français.
Il n'y a pas de "langue officielle" pour le Sun Trip, et vous pouvez communiquer dans la langue de votre choix.
Une fois votre profil créé sur le forum, vous pouvez changer la langue de l'interface du forum dans la section "Profil", onglet "Préférences".
---
In order to post on the discussion boards, you must first register. Please use your real name and not a pseudonym.
Here is a step-by-step procedure to create a username and use the forums. The procedure will guide you through the French interface. Once your profile is created, you will be able to modify the language of the interface and use the forums in the language you wish. There is no official language for The Sun Trip, so you can use whichever you like, bearing in mind that the organization will communicate mostly in English or in French.
Step 1
Click on "S'enregistrer".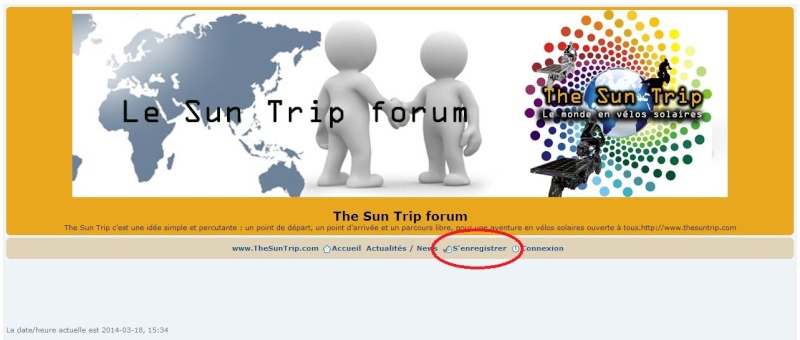 Step 2
Accept the conditions of the forum by clicking on "J'accèpte le règlement".
Step 3
Enter your name, email adress and a password. The system might display something about your password (Weak, ok, strong), but no matter what it says you will be able to continue the process with your password. Then, click on "Enregistrer".
Step 4
Enter your password a second time for confirmation. Enter the captcha code and click on "Enregistrer".
Step 5
You will get a screen telling you that a mail has been sent to your email adress with a link that you must click to confirm your registration.
Go to you emails and open the message. Click on the link inside.

Step 6
You will get to a page confirming your registration. Now you need to log in, so click on "Connexion".

Step 7
Enter your name and password, then click on "Connexion".
Step 8
You are now connected. Click on "Profil".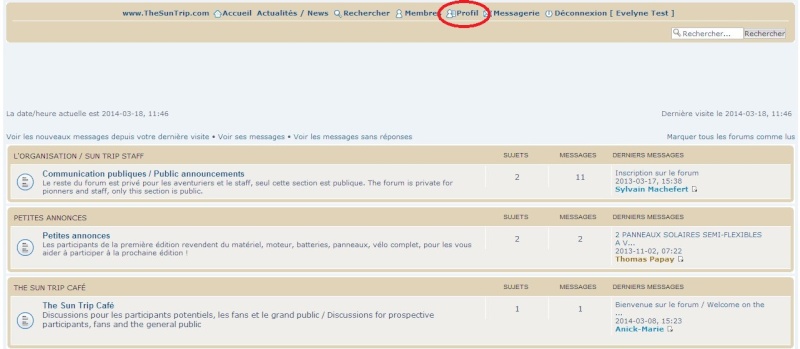 Step 9
Click on the "Préférences" tab.
Step 10
Click on the arrow next to "Français" to show all available languages and choose yours. Then, click on "Enregistrer".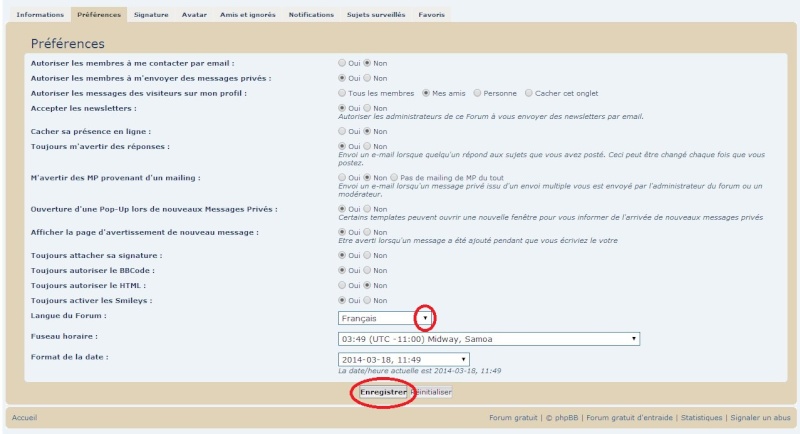 Step 11
You'll get to a last confirmation page in French saying your settings have been changed. You can click anywhere to get back to the forums with your new interface in the selected language.
Now everytime you connect to the forum,
you will first have to log in with the French interface
(steps 6 and 7), but once you are logged in, the interface will be in the language you chose.
If you have any problems with forum registration,
please contact me by email
- coordination at thesuntrip dot com

---
Permission de ce forum:
Vous
ne pouvez pas
répondre aux sujets dans ce forum